News: Immigration Reform
update Sep 2013
Streamlining Legal Immigration
"[W]e've got to bring our legal immigration system into the 21st century… if you are a citizen, you shouldn't have to wait years before your family is able to join you in America... If you're a foreign student who wants to pursue a career in science or technology, or a foreign entrepreneur who wants to start a business with the backing of American investors, we should help you do that here. Because if you succeed, you'll create American businesses and American jobs. You'll help us grow our economy. You'll help us strengthen our middle class."
President Barack Obama, January 29, 2013
---
Our immigration system should reward anyone who is willing to work hard and play by the rules. For the sake of our economy and our security, legal immigration should be simple and efficient. The President's proposal attracts the best minds to America by providing visas to foreign entrepreneurs looking to start businesses here and helping the most promising foreign graduate students in science and math stay in this country after graduation, rather than take their skills to other countries. The President's proposal will also reunite families in a timely and humane manner.
The President's Proposal
Keep families together.
The proposal seeks to eliminate existing backlogs in the family-sponsored immigration system by recapturing unused visas and temporarily increasing annual visa numbers. The proposal also raises existing annual country caps from 7 percent to 15 percent for the family-sponsored immigration system. It also treats same-sex families as families by giving U.S. citizens and lawful permanent residents the ability to seek a visa on the basis of a permanent relationship with a same-sex partner. The proposal also revises current unlawful presence bars and provides broader discretion to waive bars in cases of hardship.
Cut red tape for employers.
The proposal also eliminates the backlog for employment-sponsored immigration by eliminating annual country caps and adding additional visas to the system. Outdated legal immigration programs are reformed to meet current and future demands by exempting certain categories from annual visa limitations.
Create a "startup visa" for job-creating entrepreneurs.
The proposal allows foreign entrepreneurs who attract financing from U.S. investors or revenue from U.S. customers to start and grow their businesses in the United States, and to remain permanently if their companies grow further, create jobs for American workers, and strengthen our economy.
"Staple" green cards to advanced STEM diplomas.
The proposal encourages foreign graduate students educated in the United States to stay here and contribute to our economy by "stapling" a green card to the diplomas of science, technology, engineering and mathematics (STEM) PhD and Master's Degree graduates from qualified U.S. universities who have found employment in the United States. It also requires employers to pay a fee that will support education and training to grow the next generation of American workers in
STEM careers.

Enhance travel and tourism.
The Administration is committed to increasing U.S. travel and tourism by facilitating legitimate travel while maintaining our nation's security. Consistent with the President's Executive Order on travel and tourism, the President's proposal securely streamlines visa and foreign visitor processing. It also strengthens law enforcement cooperation while maintaining the program's robust counterterrorism and criminal information sharing initiatives. It facilitates more efficient travel by allowing greater flexibility to designate countries for participation in the Visa Waiver Program, which allows citizens of designated countries to visit the United States without obtaining a visa. And finally it permits the State Department to waive interview requirements for certain very low-risk visa applicants, permitting resources to be focused on higher risk applicants and creates a pilot for premium visa processing.
Expand opportunities for investor visas and U.S. economic development.
The proposal permanently authorizes immigrant visa opportunities for regional center (pooled investment) programs; provides incentives for visa requestors to invest in programs that support national priorities, including economic development in rural and economically depressed regions ; adds new measures to combat fraud and national security threats; includes data collection on economic impact; and creates a pilot program for state and local government officials to promote economic development.
Create a new visa category for employees of federal national security science and technology laboratories.
The proposal creates a new visa category for a limited number of highly-skilled and specialized immigrants to work in federal science and technology laboratories on critical national security needs after being in the United States. for two years and passing rigorous national security and criminal background checks.
Better addresses humanitarian concerns.
The proposal streamlines immigration law to better protect vulnerable immigrants, including those who are victims of crime and domestic violence. It also better protects those fleeing persecution by eliminating the existing limitations that prevent qualified individuals from applying for asylum.
Encourage integration.
The proposal promotes earned citizenship and efforts to integrate immigrants into their new American communities linguistically, civically, and economically.
Progress Streamlining Legal Immigration
Reducing time U.S. citizens are separated from immediate family members.
The President understands the challenges facing immigrant families. U.S. Citizenship and Immigration Services (USCIS) has established a new process to reduce the time U.S. citizens are separated from certain immediate relatives while those family members go through the process of becoming legal immigrants to the United States. Under the process, spouses and children of U.S. citizens would be able to apply for a provisional waiver of unlawful presence while still in the United States if they meet certain criteria. For more information, click here.
Reducing barriers for immigrant entrepreneurs and innovators.
We must continue to attract immigrant entrepreneurs who will start new businesses and create new jobs here in America. Taking action on this front, USCIS established an innovative "Entrepreneurs in Residence" initiative, harnessing industry expertise to ensure that existing immigration pathways are clear and consistent, and reflect the business realities of entrepreneurs interested in coming to the U.S. to create jobs. Recently, the Administration launched Entrepreneur Pathways, an online resource center that provides entrepreneurs who seek to start a business in the United States an intuitive way to navigate the immigration process. The Administration has also taken action to keep more talented science and math graduates in the country longer and to attract highly skilled immigrants, all under existing authority.
Streamlining visa and foreign visitor processing.
Tourism is America's number one service export and a source of millions of jobs. This is why the Administration is also focused on securely streamlining and facilitating the flow of legitimate non-immigrant visitors to our country. In January 2012, President Obama signed an Executive Order directing the Departments of State and Homeland Security to increase the capacity to process visas in the growing economies of China and Brazil, shorten the time it takes to get a tourist visa, expand the pool of individuals who can travel without a visa, and get people into trusted traveler programs so they don't have to wait in line when they arrive. In August 2012, the Administration released a report showing the progress the Departments have made not only in meeting, but exceeding these goals, while enhancing our ability to protect Americans from national security threats.
Aiding refugees.
The President is committed to maintaining a robust refugee admissions program—a longstanding and important component of America's overall effort to support vulnerable people around the world. The Administration has moved to address the unique challenges and barriers that refugees face by:
Meeting regularly with stakeholders and service providers to understand refugee needs and supporting federal grant programs that help local organizations serve refugee communities;
Improving refugee health by increasing medical screening, providing new mental health resources, updating the manual for refugees with disabilities, and ensuring that refugees are eligible for coverage under the Affordable Care Act; and
Conducting comprehensive on-going reviews of the United States Refugee Admissions, Refugee Social Service, and Targeted Assistance Formula Grant Programs in order to better serve refugees and the communities in which they resettle.
Providing greater protections for farm workers and their families.
By reforming the H-2A temporary agricultural program, the Department of Labor (DOL) has strengthened worker protections and requirements for employers who are seeking to bring non-immigrant foreign workers to the U.S. to perform agricultural labor or services of a temporary or seasonal nature. Through this effort, DOL is ensuring that the H-2A temporary agricultural program is only available to employers with a legitimate temporary need for non-immigrant workers and protecting foreign farm workers and domestic workers from exploitation. As part of DOL's continuing commitment to customer service, DOL has also published an H-2A Employer Handbook which provides additional guidance to employers and established an H-2A Ombudsman Program whose primary purpose is to facilitate resolution of concerns among both agricultural employers and workers.
Providing New Tools to Prepare Applicants for Citizenship.
Throughout our history, the United States has been enriched by a steady stream of hardworking and talented people from all over the world. These generations of immigrants with unique and important skills have helped make America the engine of the global economy. The Administration is committed to promoting citizenship and fully integrating newcomers to their new communities. Doing so will not only allow them to thrive, it will also ensure that America remains the envy of the world.
April 10, 2009 CNN:
Editor's note: Ruben Navarrette Jr. is a member of the editorial board of the San Diego Union-Tribune and a nationally syndicated columnist.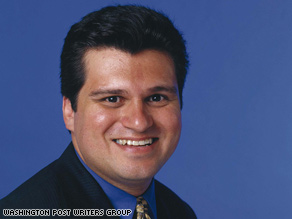 Ruben Navarrette says Obama is right to try to move forward on immigration reform this year.
SAN DIEGO, California (CNN) -- The Obama administration's stance on immigration reform is like a never-ending telenovela with multiple plot twists --sometimes more than one in the same news cycle.
One minute the administration is saying it's going to push for immigration reform this year; the next, the message is that it won't push that hard.
According to an article in Wednesday's New York Times, President Obama plans to begin addressing the country's immigration system this year, and those plans will include looking for a path for illegal immigrants to become legal.
The article quotes Cecilia Muñoz, deputy assistant to the president and director of intergovernmental affairs in the White House, as saying that Obama will frame the new push as "policy reform that controls immigration and makes it an orderly system."
As opponents of immigration reform never fail to point out, before joining the administration, Muñoz was vice president of the National Council of La Raza, an organization that has helped lead the fight for immigration reform in recent years. Other administration officials confirmed to the Times that Obama plans to speak publicly about the immigration issue in May, convene working groups made up of advocates and lawmakers over the summer and discuss possible legislation as early as this fall.
That's what I call an ambitious agenda. If things go off as planned, Obama will have kept a promise that he made to Latinos during the election, and more recently to the Congressional Hispanic Caucus -- that he'd tackle immigration reform in his first year.
But talking about it is one thing, and accomplishing it is another. So before Obama can go around the country to persuade Americans to do immigration reform this year, he should first go down the hall and convince his own vice president to get on board.
And this is a vice president with a constituency. According to media reports, in a White House full of elites, Joe Biden is often a spokesman for blue-collar America. During a recent visit to Central America, he noted that working-class Americans want no part of immigration reform in the midst of an economic crisis.
"It's difficult to tell a constituency -- while unemployment is rising, they're losing their jobs and their homes -- that what we should do is in fact legalize [illegal immigrants] and stop all deportation," Biden said.
Sounds like Biden could be a tough sell. Here, I'll help. This is what Obama should tell his No. 2:
"Joe, there's truth to what you say. This is a tough sell, because some working-class Americans worry that illegal immigrants -- once legalized -- would compete with them for jobs.
"But there's also untruth to it. For one thing, illegal immigrants are already here and already competing for jobs. And, according to immigration restrictionists, they already get most low-skilled jobs anyway because they'll work for lower pay. But wait. That's because these workers are in the country illegally and employers exploit that fact to keep wages low. Ergo, in order to help U.S. workers, we need to get the illegal immigrants legal and force employers to pay all workers higher wages and stop playing one group of workers off another.
"Besides, you know as well as I do that the reason many Americans resist comprehensive immigration reform has nothing to do with the economy. They fought it in 2005 and 2007 when you and I and the rest of our Senate colleagues botched the chance to do immigration reform, and the economy was strong then.
"It's the culture, stupid. People freak out about having to press 'one for English' and the nativist fringe even thinks the country is being 'colonized' by Latinos. Much of this is about changing demographics, and the fear that many Americans have that, 30 years from now, whites will be the minority. We can't give in to that kind of subtle racism.
"And we can't wait, either. We have to break ground on immigration reform this year because, while we were elected for four-year terms, the sad reality is that we only get one good year. After that, it's time for Congress to worry about re-election, and so they won't go anywhere near a combustible issue like this one.
"As for you and me, there are those who say that issues like this cost votes. Well, if we're only going to have one term, let's make it a great one. And you don't get to greatness by avoiding the tough fights. You meet them head-on. And that's what we're going to do with immigration reform this year."
Obama has plenty of good arguments he can make to support moving quickly on comprehensive immigration reform. And if the reports are true, he deserves credit for rebooting the debate.
Still, the administration may not have shifted its stance at all. CNN reported late Thursday that the White House is not pushing to pass immigration reform this year. White House spokesperson Nick Shapiro was quoted as saying, "the president has consistently said that he wants to start the discussion later this year because our immigration system is broken...but the economy comes first."
The telenovela continues.
The opinions expressed in this commentary are solely those of Ruben Navarrette.
source: CNN
---
April 9, 2009
WH won't push immigration issue this year
Posted: 07:30 PM ET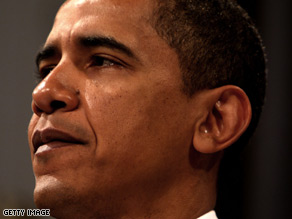 The White House has made no secret of the fact that the President wants to see health care and energy reform passed this year.
WASHINGTON (CNN) – Multiple Obama administration officials tell CNN that the White House is not pushing to pass a comprehensive immigration reform bill this year. While it's a top priority for the President's first term, White House spokesperson Nick Shapiro says "the president has consistently said that he wants to start the discussion later this year because our immigration system is broken…but the economy comes first."
The White House has made no secret of the fact that the President wants to see health care and energy reform passed this year, and would be loathe to cripple those efforts with a fight over an issue as controversial as immigration reform. And White House strategists have to be keenly aware of the possible impact on House Democrats from red districts.
But the mood on Capitol Hill could be different.
Jim Manley, Sen. Harry Reid's senior communications advisor, tells CNN that the Majority Leader "intends to try to take comprehensive immigration reform to the floor later this year, probably in the fall." The situation in the House is trickier - a vote on the hot-button issue could hurt freshman Democrats who were elected in swing districts.
But House Democrats were presented with compelling evidence that voters want to see them trying to fix the immigration system. During the House Democrats' February retreat, Pete Brodnitz — who works for the same firm that does polling for the president — argued that Democratic House members should promote their own immigration reform plans.
"The downturn in the economy has not weakened the case for comprehensive reform and has the potential to strengthen the case for it," Brodnitz argued. He added that Democrats must take a lead because "the problem won't go away as long as the GOP continues to raise it" and that because Democrats run Congress and the White House that "makes us increasingly accountable for results."
Among the polling data he cited: 47 percent of voters believe that solving the issue of immigration should be a high priority for the Democratic Congress. Eighty percent of swing district voters say illegal immigration is a serious problem and more than half (57 percent) of swing district voters believe that immigration reform was not discussed enough during the election.
Brodnitz told House Democrats that his polling showed two thirds of voters believe immigrants who are not here legally "should become legal taxpayers and pay their fair share." He argued that "candidates who offer solutions to this problem can find that is an advantage - not just despite the economy but because of the economy."
Still, the White House insists the New York Times story on immigration "isn't news." Administration officials point out the president previously told members of the Congressional Hispanic Caucus and the Hispanic Chamber of Commerce that he's always planned to start discussions on immigration reform this year.
source: CNN
---
---
Certificate of United States Naturalization
The Certificate of Naturalization (form N-550 or N-570) is a document issued by United States government as proof of a person having obtained U.S. citizenship through naturalization (a legal process of obtaining a new nationality). The Certificate of United States Naturalization has been issued since October 1, 1991 by the USCIS, and on or before September 30, 1991 by Federal Courts and particular State Courts. The United States Certificate of Naturalization is proof of an individual's U.S. citizenship through naturalization.
---